The use of composite decking has become a popular choice in the past few years among homeowners, landscape experts, and builders. There are many reasons for that and they're each something to consider if you're thinking about adding a deck to your outdoor living space. Not only will you love the look and feel of composite decking, but you'll also enjoy a transformation in your garden that makes it perfect for entertaining, spending an afternoon with family, or simply relaxing by yourself in the sun with a book. Here's why composite decking is the clear choice for your garden. especially when combined with one of our excellent verandas.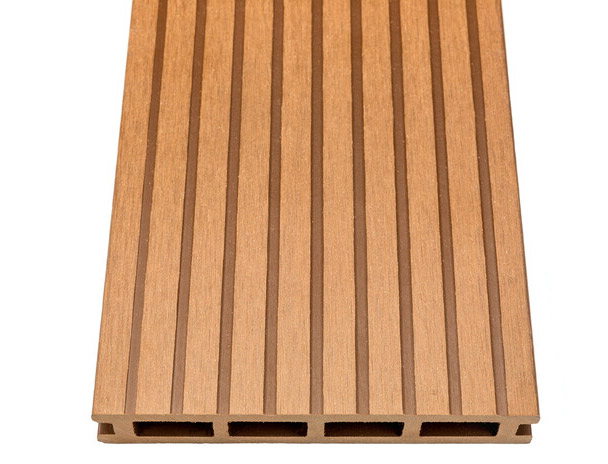 What is Composite Decking?
You've probably seen composite decking but may not have realised that's what you're looking at. It's most often constructed of a mix of recycled plastic and wood. The result is a material that's stronger, heavier, and denser than wood, making it an ideal option for outdoor use. Similar to traditional wooden decking materials, composite decking can be customised to exact specifications, to the length and shape you require.
It's manufactured by pressing together a mixture of wood and plastic in almost equal quantities to form the "boards" used to make a deck. It's often created to mimic the look of traditional wood, but it doesn't require the sanding, staining. and other prep work.
A finished deck made from composite materials looks very similar to a wooden deck but is much better for the environment and will hold up longer than wood will. If you want to make an eco-conscious choice, composite materials are likely just what you've been looking for.
It's Long Lasting
One of the biggest reasons to choose composite decking is that it's built to last. Unlike wood, which is susceptible to rot, warping, and discoloration with time, composite decks are designed to last without worry of degradation or other damage. It can withstand all kinds of weather conditions, including rain, snow, and harsh sun without breaking down, fading, or needing to be replaced as often as wood.
Since it's not made solely from wood, the materials aren't as prone to splinters or breakage and you won't have to worry about algae or mould building up on the surface and causing damage or other problems. The UV stability of the materials mean that they are resistant to sun damage and won't break or fade as the sun shines on them.
Simple Maintenance
Another great thing about composite decking is that it's easy to take care of and doesn't require a lot of maintenance to keep it looking its best. Unlike wood, you won't have to apply a stain or protective finish to keep the surface of the deck clean and safe from the elements. You won't have to sand it either, which cuts down on the amount of time you spend on maintenance.
All you'll need to do is give it a good spray with a hose to clear off dirt and debris, then let it air dry. The decking is resistant to stains, so you won't have to worry about scrubbing anything out of the materials if something is spilled on the deck. Stubborn dirt is usually easily tackled with a pressure waster. Once it's installed, you're good to go and can enjoy the deck without a bunch of upkeep.
It's Safe for All Ages
Unlike wood, a composite deck doesn't pose the risk of splintering that wood does, which cuts down on the risk of injury. At the same time, it won't get as slippery when wet as wood does, which makes it ideal for use around backyard pools or a children's play area.. Usually the deck is installed without the use of nails or screws, which makes it safe for people of all ages to walk on it barefoot.
High Value for the Cost
You'll notice that the cost of composite decking is higher than a traditional deck, but you'll get a good return on the investment. Not only can a composite deck add to the overall value of your home, but it lasts for so long that you'll save money on replacing all or part of it over time. At the same time, the low maintenance required saves you money on upkeep, making the initial investment one that's completely worth the cost.
Visual Appeal
One of the top reasons people choose composite decking is because it looks good. It can be made in a variety of colours so you can choose the one that looks best in your outdoor space. At the same time, it can also be made to mimic the natural grain of traditional wood so you can still get the look you want. Whether you want an exotic tropical wood or something a bit more understated, you can achieve the look with ease when you choose a composite deck.
Of course you can choose from the traditional browns of wood, including dark woods and lighter ones, but those aren't your only options. Composite decking also comes in a variety of shades of grey or red brown. You might also mix a couple of colours to create a unique pattern or design on your deck.
How to Install Composite Decking
If you've decided not to hire professionals to install your composite deck, you can certainly get the job done yourself. Of course, you should have a basic knowledge of construction and the appropriate tools, but it's a job many homeowners do on their own. You'll need a post hole digger, a mitre saw, and a level, as well as the composite decking materials, fasteners, and concrete.
The first step is to decide where you want the deck and how big you want it to be. Record these measurements and prepare the area accordingly. Then, prepare the post holes, allowing the concrete to cure according to manufacturer directions. You'll need to install anchors on the exterior of your house to hold the deck in place, then you can install the joist hangers. After that, you'll lay the deck itself. If you're unsure of the process or don't have any experience, it's a good idea to hire experts to do the work for you.
If you want to see video on how to install composite decking click here
Where to Install Composite Decking
The great thing about composite decking is that it's versatile and can be used in many places. Install it around your pool or as an entertaining space in your backyard. It's ideal for your grilling area and seating areas. No matter where you use it, experts caution against using composite materials for support framing. Use regular wood for this purpose unless otherwise instructed by a decking expert.
How to Choose Composite Decking
Now that you've decided composite decking is for you, you will need to decide which colour you want for your outdoor space. There are several factors to think about as you make your decision. The most obvious one is personal preference. You're going to be looking at your deck all the time, so be sure you choose a colour that you like.
You should also consider the exterior of your home so you can select a colour that won't clash with your house colour. If your home is yellow, tan or beige, just about any shade of brown will work well. Red, grey, or blue homes look better when you choose a grey colour of composite decking. If your house is white, you can pretty much choose any colour you want.
Another thing to think about is how much sun exposure your deck is going to get. Darker materials will heat up a lot more than lighter ones. So if you don't plan on covering your deck in any way, you might want to choose a lighter colour so it's not hot to the touch and it's comfortable to spend time on.
As you can see, composite decking is a premier choice for any outdoor space. Whether you want a small barbecue area, or you want a full size deck for entertaining, composite decking is the way to go. It's easy to install, simple to maintain and take care of, and will look great in your garden for many years to come.